What Bike Rack and Hitch do You Recommend for 2 E-Bikes on My 2016 Jeep Wrangler Unlimited?
Hi I have a 2016 Jeep Wrangler Unlimited, and I need a rack for two e-bikes. One weighs 76lbs., and the other 50lbs. I also have a two inch receiver. Thank you
asked by: Cesario A
Thanks so much for attaching a photo to your question. I have a great solution for you. Unfortunately, with your spare tire, you will need a lot of shank length in order to clear your tire. If you have a hitch installed with standard-sized spare tire, you will need additional shank length from the center of the shank's pinhole to the closest part of the bike rack on your 2016 Jeep Wrangler Unlimited. With that length, the only way to get the proper measurement with any rack with the weight capacity you need is with a hitch extender. Since you already have a hitch installed, I recommend measuring from the center of your hitch's pinhole to the outside surface of your spare tire to know how much length you need.

For the rack itself, I recommend the Hollywood Racks RV Rider Bike Rack for 2 Electric Bikes - 2" Hitches # HLY64FR. Apart from its 80-pound weight capacity, the RV Rider comes with independently-adjusting clamps that can be positioned anywhere on the central mast. With this feature, you will not need a bike frame adapter bar like # HRBA-PRO if your bike is a women's style bike, a step-thru bike, or children's bike. The measurement of the center of the shank pinhole to the closest part of the RV Rider is 7-1/2 inches.

For additional shank length, I recommend the Hitch Extender for 2" Hitches - 7" Long # HE06. With the hitch extender, you will add 7 inches of additional length to the shank for a total of 14-1/2 inches. We do not carry any hitch extenders less than 7 inches long. Again, with your hitch installed, I recommend finding out what length is required for you to properly clear your spare tire. I went ahead and linked a product page of all lengths of hitch extenders that will fit 2" hitch receivers.

It is important to note that any time you use an adapter, you will decrease the overall weight capacity on your hitch by 50%. So, for example, if you have a compatible hitch installed like the Draw-Tite # DT78MR, you will only have 337.5 pounds of tongue weight to use. However, even with this capacity, you will still be able to accommodate the 184 pounds of the bikes and the 58 pounds of the RV Rider. Unfortunately, we do not have any specs about how much bumper clearance length you will need on your 2016 Jeep Wrangler Unlimited with the # DT78MR installed.

For another option, you can use the Yakima BackSwing Swing Away Hitch Extender for Bike Racks - 2" Hitches # Y02483 along with the RV Rider. You will also get the benefit of swinging the rack to the side to access your rear hatch. Your hitch receiver will be reduced by 50% with the BackSwing as well. It is important to factor in the 35-pound weight of the extender itself into your weight calculations.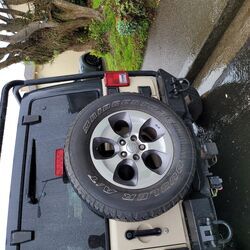 2016 Jeep Wrangler Unlimited
(click to enlarge)
Ask The Experts a Question >>
Featured Help Information
Instructions
Miscellaneous Media