Recommended Suspension Enhancement for 2015 Nissan Frontier Towing 5,000 Pound Travel Trailer
Looking at these Sumo helper springs on ETrailer… I'm seeing the blues +1K pounds and black +1500 pounds assuming the black ones would be too stiff? I tow a 5000 pound + or - a few hundred pounds RV. What do you guys think? Blue or black? I don't want my ride to be too stiff when I not towing.
asked by: Rick G
For your 2015 Nissan Frontier I would recommend the SumoSprings Solo Custom Helper Springs # SSR-610-40, which are the blue SumoSprings. Although SumoSprings are pretty good about not affecting your unloaded ride quality you're right, the others would be more stiff. The additional weight capacity wouldn't be necessary either.

These helper springs will keep you level when towing while absorbing bumps and shocks. They have progressive load control and a microcellular urethane construction. They feature a no-drill installation and are made in the USA.

I have attached some review and installation videos for your reference.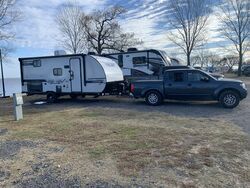 Customer Nissan Frontier Towing Travel Trailer.
(click to enlarge)
expert reply by:
Robin H
Ask The Experts a Question >>
Featured Help Information
Instructions
Miscellaneous Media