How to Tell if Roof Cargo Box Will Fit with Roof Rack on a 2015 Honda Fit
Hello! I am considering a Rhino aero bar setup 2500 on my 2015 Honda Fit with a bare roof and am wondering about a cargo box. Id like to maximize hauling capability and am looking at the Yakima Skybox NX 16 or similar 16 cubic foot box from Thule or Yakima but dont know if I will have the clearance with the rear hatch. Its difficult to measure the distance from the front bar to the hatch before I know exactly where the front bar is going to install. Any guidance is much appreciated. Thanks!
asked by: IANDONALD M
The Rhino-Rack roof rack for your 2015 Honda Fit consists of the following parts:

46" Vortex Aero Crossbars - # RRVA118B-2
2500 Series Legs - # RRRLKVA
Fit Kit - # DK438

The instructions for the fit kit show that the middle of the front crossbar will be located 9-27/32" (a little under 9-7/8") in front of the center of the door jamb. If you measure from 9-27/32" in front of the center of your door jamb back to the line where your roof and hatch meets, and this is 47" or more the Yakima SkyBox NX 16 # Y95AV will fit just fine and have enough clearance for your rear hatch to open up.

If you measure something less than 45" let me know what you find and I can make a different roof box recommendation for you. I've also attached an installation video and a photo showing that measurement you need to take from when we installed this same roof rack on a 2016 Honda Fit.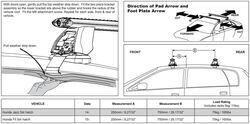 Rhino-Rack Fit Kit Instructions for 2015 Honda Fit
(click to enlarge)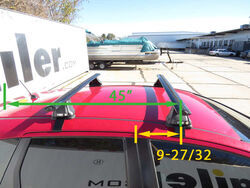 How to Tell if Yakima SkyBox 16 Will Fit
(click to enlarge)
expert reply by:
Jon G
Ask The Experts a Question >>
Featured Help Information
Instructions
Miscellaneous Media