Installing a Pilot Brake Controller in a 2004 Ford F-250 Super Duty with Cut Wires Under the Dash
Wire cut under dash
asked by: Robert F
If equipped with a factory 7-way trailer connector, your 2004 Ford F-250 Super Duty pickup should have a grey plug hanging down near the OBD-II diagnostics port under the dash. This plug allows connection of a brake controller. It may be necessary to remove a trim panel to gain access to the brake controller plug. If it is not readily visible, you may need to check further inside of the dash, reaching through the sheet metal and into the area behind the center console.

Please refer to the included photo which shows the plug, and to the linked article.

If there is no plug you will need to test the wire functions before connecting the controller. One wire should have constant 12V on it; this will connect to the black wire on the controller. Another wire should have voltage on it only when the brake pedal is pressed; this will connect to the red wire on the controller.

Of the remaining two wires, one is ground and one carries the brake controller output to the 7-way. You can use a 12V battery to apply power to the 7-way pin at the 5-o-clock position and then test the cut wires under the dash. The wire that carries the 12V is the one connected to the pin on the 7-way and this one should connect to the blue wire on the controller. The other will then be ground.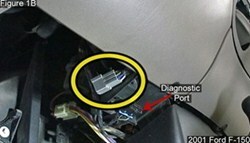 click to enlarge
Ask The Experts a Question >>