Easy Load Kayak Rack Options for a 2022 Kia Telluride for 2 Kayaks
I am looking for a simple but stable carrying system for two kayaks 41 lbs each and 26inch at the beam on a 2022 Kia Telluride that has flush side bars. As retirees who are likely to get older with time, simpleinch loading is a priority. We also need to be able to easily take the roof system off when not in use. I would love to put two Thule Hullavator Pro carriers on, but after researching this I understand that is not possible due to roof width and roof weight capacity. Is that correct? If so, is it possible to put on one Hullavator and one of something else that is still reasonably easy, perhaps something like Item #Y04083-04082? Im also not sure how easy it is to get the Hullavator itself on and off, so all of this is based on novice speculation. Feel free to propose a better all-around solution. Im only concerned about ease of loading and stability on the roof, obviously within roof weight capacity. Cost is not an issue. Picture of car roof with flush side rails is attached. Thanks!
asked by: Michael S
I have a couple different options for you. You are correct that you are not going to be able to get 2 kayaks on the roof of your 2022 Kia Telluride with the Thule Hullavator # TH898 because of space and weight. And honestly you will probably have a difficult time getting 1 kayak on a Hullavator and one on a different style of carrier. The Yakima Kayak Carrier # Y04083-04082 you mentioned would also be difficult because these style of carriers have the kayak lay flat and that takes up a lot more space. You will most likely need a J-style carrier to allow enough room on the roof of your Telluride.

The first option will be the roof style you asked about. You will need to start by getting a roof rack for your 2022 Kia Telluride. The 2022 Kia Telluride Roof Rack by Rhino Rack which consist of the Rhino-Rack Vortex Aero Crossbars # RRVA137B-2 and the Rhino-Rack SX Series Legs # RR94DY will provide you with the roof rack you need for the kayak carriers. You can then use the Malone DownLoader Kayak Carrier and TelosXL Load Assist w/ Tie-Downs # MPG114MD-351XL. This will provide you with a J-style carrier (will make it easier to fit 2 kayaks) and load assists. You would then need to add the Malone DownLoader Kayak Carrier # MPG114MD for your 2nd kayak and you can use the same Load Assists to load that kayak. These will either clamp onto the crossbars using the Universal Jawz brackets or you can add the Truck Rack T-Slot Fit Kit for Malone Kayak Carriers # MPG8287 (x2, 1 for each carrier) to mount the carrier in the channels of the crossbars. I have attached a video that shows how the load assists and these carriers work. These carrier also on weigh 12.2 lbs. each.

The other option would be to use a kayak trailer. This is going to be by far the easiest to load because you wouldn't be trying to load the kayaks at roof level. But you then have a trailer to deal with. The Malone EcoLight Sport Trailer # MAL43FR will allow you to carry both kayaks laying flat. This trailer also has wiring for the lights on the trailer. Your Telluride would need a hitch and 4-way connector if you do not already have them. You can use the etrailer Trailer Hitch Receiver # e45ZR and the Curt T-Connector Vehicle Wiring Harness # CU94FR to get the hitch and wiring. The Curt Towing Starter Kit # C45534 would provide you with a ball mount kit to pull the trailer.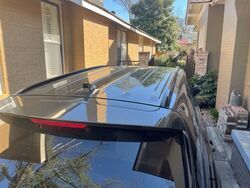 Roof with Flush Rails on a 2022 Kia Telluride
(click to enlarge)
Ask The Experts a Question >>