Do I Need a Hitch Extender with the Kuat Transfer V2 on My 2021 Jeep Wrangler with Spare Tire?
DO I NEED A HITCH EXTENSION TO ACCOMODATE THE SPARE TIRE ON A 2021 JEEP WRANGLER ISLANDER? IF SO, HOW LONG??WHAT PART NUMBER
asked by: MICHAEL B
There is definitely a way to find out! Since the Kuat Transfer V2 # KU84FR has a 6-1/2" length from the center of the shank's pinhole to the closest part of the rack, I recommend making a measurement on your 2021 Jeep Wrangler. You need to measure the center of the hitch's pinhole to the outside surface of your spare tire. If that length is less than 6-1/2", you do not need a hitch extender. I went ahead and attached a photo that shows how to do this measurement.

If you find that you need more length, I recommend using the Curt Hitch Extender for 2" Hitch Receivers - 8" Long # C45791. Not only is this a more economical option than other extenders, it adds 8 inches of additional length from the hitch to your rack. Judging from your photos, you most likely won't need more length than this. It is important to note that any time you use a hitch extender, you decrease your hitch's overall weight capacity by 50%.

I went ahead and attached a video of the hitch extender installed on an older model of Jeep Wrangler to provide you with perspective.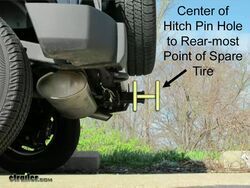 How to Measure Spare Tire Clearance
(click to enlarge)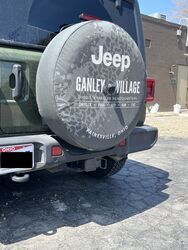 Neighbor's 2021 Jeep Wrangler
(click to enlarge)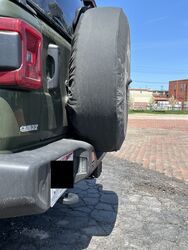 Neighbor's 2021 Jeep Wrangler
(click to enlarge)
Ask The Experts a Question >>
Featured Help Information
Instructions
Miscellaneous Media