Wiring Installation For The Jensen JWM40/JWM41 RV Stereo
I see there is a service package that includes a remote and a wiring harness. I need a remote. Does the full wiring harness need to be installed for a replacement remote controller to work? Also, am I to understand that the service package for JWM40 remote and wiring harness also fits the JWM41? If wiring harness is necessary - Does this come with instructions so we dont electrocute ourselves or burn down the RV in the process of our DIY attempt at installing the wiring harness?
asked by: JMerrell
The Jensen RV Stereo # JWM40 is the same thing as the JWM41, just different item codes on our end. Most likely you will use every wire from the wiring harness, but for any wires that you don't use you can either leave them alone or use some electrical tape to cap them off. These wires will not put off anything that could potentially zap you or burn down your RV so there's no need to worry.

I've attached the wiring diagram below which will tell you the function of each wire based on their color so that you can make all of the connections. I recommend picking up some Butt Connectors # 05731-5 to complete these connections.

This stereo does indeed come with a remote to easily control the stereo with.
expert reply by:
Kevin C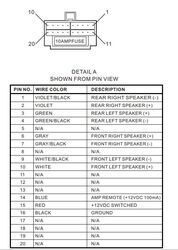 JWM40 Wiring Diagram
(click to enlarge)
Ask The Experts a Question >>