Installing the Pioneer Platform Roof Tray Directly to My 2022 Subaru Outback Wilderness
Can I attach the RR35TB to my 2022 Subaru Outback Wilderness just using the roof bars, or do I have to utilize crossbars? I currently have the heavy-duty Thule aero bars and basket... but it sits too high off the roof and creates excessive wind noise and noticeable drag.
asked by: John A
Great question!

The Rhino-Rack Pioneer Platform Roof Tray # RR35TB you're looking at is just the Pioneer Tray itself but if you check out part # RR77AB instead it's exactly what you're looking for as it has the same dimensions and also comes with 4 of the SX Series legs that you'll use to install the Pioneer Tray directly to the raised rails on your 2022 Subaru Outback Wilderness.

This will help keep the tray from sitting on top of your Thule roof rack.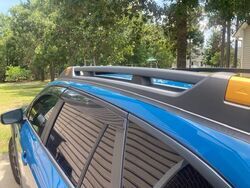 Raised Roof Rail on 2022 Subaru Outback Wilderness
(click to enlarge)
expert reply by:
Jon G
Ask The Experts a Question >>
Featured Help Information
Instructions