Replacement Hub-and-Rotor Assembly for 2000 640 Ranger Boat Trailer With Tandem Axles
Is this the correct replacement for a 2000 620 Ranger Trail Tandem axle.
asked by: Chuck M
In order to find if the Dexter 10" Hub-and-Rotor Assembly # K08-435-05 will fit your 2000 620 Ranger boat trailer you will need some additional information. This assembly is designed to fit a 3,500 lb axle with the standard # L68149 inner and # L44649 outer bearings. I recommend checking your axle tag/bearings to see if this will fit.

The axle tag should have the capacity. It is also likely this has a serial number which could be used to identify the axle and the bearings it uses. If you cannot find this information you can remove the hub and inspect the bearings. Part numbers are typically stamped in the side.

If the part numbers are worn off you will need to measure. You can measure the inner diameter of your bearings or the spindle where the bearings ride using a digital caliper like the # PTW80157. The # L68149 has an inner diameter of 1.378" and the # L44649 has an ID of 1.063". If you find that you have the same measurements or bearings then you can use the # K08-435-05 as a replacement.
expert reply by:
Robin H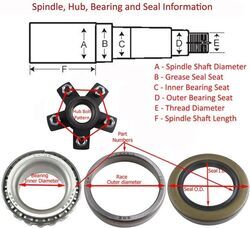 Spindle, Hub, Bearing and Seal Information.
(click to enlarge)
Ask The Experts a Question >>