Recommended Roof Rack for a 2021 Honda CR-V w/ Flush Roof Rails
I have a 2021 Honda CR-V Touring with flush roof rails, I would like to add a roof rack. My preference is for a Rhino Rack one, Im not sure what the difference is. I'd also like reinforced locks for the podium feet. Can you make a recommendation? I realize there may be an issue with the sun roof, but we don't use it. The cleaner look of the low profile bars is more important. Were planning on transporting two bikes, one race so front wheel off, the other is easier to leave the wheel on. thank you.
asked by: Peter L
To add a roof rack to the side rails of your 2021 Honda CR-V, you will want the roof rack by Rhino Rack and it includes the following parts:

Rhino-Rack Vortex Aero Crossbars - Aluminum - Black - 49" Long - Qty 2 item #

RCL Legs for Rhino-Rack Crossbars - Fixed Mounting Points - Qty 4 item # RRRCL4

Custom RCP Fit Kit for 4 Rhino-Rack RC Roof Rack Legs - Fixed Mounting Points item # RRRCP60-BK

To add reinforced locks you will want the Rhino-Rack Locking Endcaps for Vortex Aero Crossbars item # RRVA-LEC4.

This aero bar roof rack system has a 165 lbs capacity which is more than capable of handling a couple of roof mounted bike racks. The rubberized vortex strips in the top channels dramatically reduce drag and wind noise.

I have linked a couple of pictures, along with a video, that will show you what this system will look like when installed on your CR-V.

2021 Honda CR-V Roof Rack by Rhino Rack
(click to enlarge)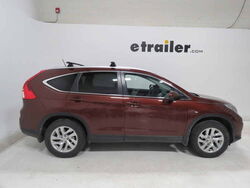 2021 Honda CR-V Roof Rack by Rhino Rack
(click to enlarge)
expert reply by:
Jerred H
Ask The Experts a Question >>