Hitch Extender Recommendation to Fit Yakima OnRamp On RV
We had a hitch receiver welded on the back of our Arctic Fox 5th wheel to carry our e-bikes. When the bikes are loaded the handlebars on the inside bike come to close to the rear window for comfort and Im afraid any movement will punch the window out. Additionally, there is not enough room for me to lean the inside bike inward to clear the pedal from hitting the center bike support bar in the center of the bike rack, so I have to remove a pedal to even get it loaded. Reading information on your website, I see that extending reduces the weight capacity by 50, but I need to do something, and it seems the shorter the extension the better. I really only need about 5 inch but the 7 inch is the shortest you have, plus it looks like this one is made by Thule explicitly for carrying bikes. All three items bikes x 2, Yakima On Ramp bike carrier weigh 60 lbs each. Do you think we are ok for using this extender? The hitch receiver was welded on both ends to the metal horizontal beams of the RV frame and additionally welded in the center to the bumper waste hose storage which is also welded to the frame.
asked by: Doug W
Thank you for reaching out and providing all of the details!

I have a solution for you to extend the Yakima OnRamp Bike Rack for 2 Electric Bikes # Y36FR further out from your Arctic Fox 5th wheel RV but I think it's at least worth noting 2 things; the weight capacity of your trailer hitch will be cut in half when using the extension (like you said) and that the OnRamp isn't rated for use at the back of a 5th wheel as Yakima states there is too much movement so the rack can't handle it. Since this is the case I can't really speak to the durability of the setup.

With all of that being said, the Thule Hitch Extender # TH55JV is a decent choice but I actually recommend using the RockyMounts Hitch Extender LS # RKY10011 instead because it comes with that anti-rattle feature as well as a lock. This also provides 8" of clearance to your setup which should be more than enough room for your bike to fit without touching your 5th wheel.

Attached are some review videos for you to check out. If you end up wanting to use a different rack please let me know and I'd be more than happy to help out!
expert reply by:
Jon G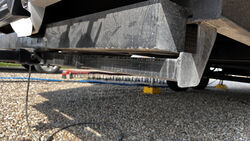 Hitch Install at Back of Arctic Fox 5th Wheel Trailer
(click to enlarge)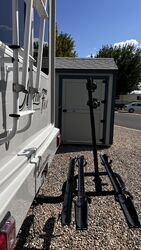 Yakima OnRamp at Back of Arctic Fox 5th Wheel Trailer
(click to enlarge)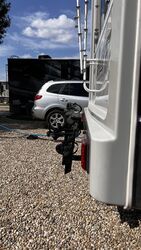 Folded Yakima On Ramp at Back of Arctic Fox 5th Wheel Trailer
(click to enlarge)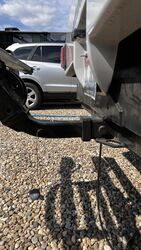 Hitch Installed at Back of Arctic Fox 5th Wheel Trailer
(click to enlarge)
Ask The Experts a Question >>
Featured Help Information
Instructions
Miscellaneous Media