Roof Rack and Cargo Box Recommendation for 2017 Honda CR-V with Flush Rails
We want to buy our son a rooftop cargo box with the following guidelines: 12-16 cu ft, min length 5.5 ft to carry skis and snowboard occasionally. Can you tell me everything needed including rails, etc for 2017 Honda CR-V with factory installed flush side rails?
asked by: Diane B
First thing you need for your 2017 Honda CR-V that has flush rails is a roof rack and for the the Rhino Rack Vortex roof rack part numbers # RRVA126S-2, # RRRCL4, and # RRRCP60-BK is my favorite option as you get a higher quality aero bar roof rack at a lower price than similar quality brands.

Then for a cargo box the Rhino Rack MasterFit Rooftop Cargo Box # RRRMFT440 would be a really great option that has 15-1/2 cubic feet of storage space and can fit skis a little over 6 foot. It also is a higher quality box that has easy to use install hardware that costs less than similar quality boxes.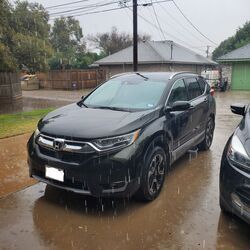 Honda CR-V
(click to enlarge)
expert reply by:
Jameson C
Ask The Experts a Question >>
Featured Help Information
Instructions