Recommended Roof Rack for a 2023 Chevy Malibu w/ a Naked Roof
I have a 2023 Chevy Malibu with nothing on the roof. I would like to add a roof rack to mount my bike rack. Is there a roof rack that will work for my Malibu and give me enough capacity?
asked by: Gus
Yes, there is a roof rack that will fit your 2023 Chevy Malibu. This mounts directly to the side of your roof without drilling and has more than enough capacity for a bike rack. You will want the roof rack by Rhino Rack and it includes the following parts:

Rhino-Rack Vortex Aero Crossbars - Aluminum - Black - 49" Long - Qty 2 item # RRVA126B-2

Rhino-Rack 2500 Series Legs for Vortex Aero Crossbars - Naked Roofs or Fixed Mounting Points - Qty 4 item # RRRLKVA

Custom DK Fit Kit for 4 Rhino-Rack 2500 Series Roof Rack Legs - Naked Roof item # DK462

This aero bar roof rack system has a 165 lbs capacity. The included locks will prevent theft. The rubberized vortex strips in the top channels dramatically reduce drag and wind noise.

I have linked a couple of pictures, along with a video, that will show you what this system will look like when installed on your Malibu.
2023 Chevrolet Malibu Roof Rack by Rhino Rack
(click to enlarge)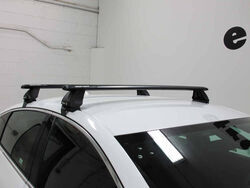 2023 Chevrolet Malibu Roof Rack by Rhino Rack
(click to enlarge)
expert reply by:
Jerred H
Ask The Experts a Question >>