Recommended Roof Rack for a 2023 Mazda CX-5 w/ a Naked Roof
I have a 2023 Mazda CX-5 with nothing on the roof. I would like to add a roof rack to mount my bike rack. Is there a set that will work for my Mazda and give me enough capacity?
asked by: Rob
Yes, there is a roof rack that will fit your 2023 Mazda CX-5. This mounts directly to the side of your roof without drilling and has more than enough capacity for a bike rack. You will want the roof rack by Rhino Rack and it includes the following parts:

Rhino-Rack Vortex Aero Crossbars - Aluminum - Black - 46" Long - Qty 2 item # RRVA118B-2

RCL Legs for Rhino-Rack Crossbars and Pioneer Platforms - Fixed Mounting Points - Qty 4 item # RRRCL4

Custom RCP Fit Kit for 4 Rhino-Rack RC and RV Series Roof Rack Legs - Fixed Mounting Points item # RRRCP48-BK

This aero bar roof rack system has a 165 lbs capacity. The included locks will prevent theft. The rubberized vortex strips in the top channels dramatically reduce drag and wind noise.

I have linked a couple of pictures, along with a video, that will show you what this system will look like when installed on your CX-5.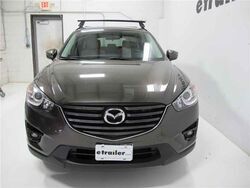 2023 Mazda CX-5 Roof Rack by Rhino Rack
(click to enlarge)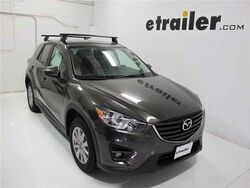 2023 Mazda CX-5 Roof Rack by Rhino Rack
(click to enlarge)
expert reply by:
Jerred H
Ask The Experts a Question >>