Parts Needed To Install Electric Over Hydraulic Disc Brakes On a 2021 Grand Design Imagine XLS 21BHE
Hello. I am thinking of replacing my 3000lb axle that has regular breaks with a 3500lb rated one with the hydraulic disc breaks. What are my options and is it possible to provide list of parts I would need? If possible I would like to go with the easy lube axel. Attached is the picture of the label of my existing axle and some other relevant photos. I have 2021 Grand Design Imagine 21BHE XLS travel trailer and 2013 Ford F-150 with build in break controller and 7 pin connector. Thank You
asked by: Tomasz L
The Timbren Axle-Less Trailer Suspension System # ASR3500S06 is our only 3,500LB axle option for your 2021 Grand Design Imagine 21BHE XLS travel trailer. Otherwise you will have to order a custom axle as the only axles we have which have the same 86.5" hub face measurement as your current axles are 5,200LB and larger.

The Kodiak Disc Brakes # KOD59FR will include new hub/rotors with all the bearings and grease seals for one axle along with the caliper and mounting brackets. It does include the correct grease caps for an EZ lube axle spindle. I recommend using the Hydrastar Vented Marine Electric Over Hydraulic Actuator for Disc Brakes # HS481-8067 on your Grand design as it has a plug and play design which will make installation much easier. It also includes the Control Adapter Module which will allow you to use the factory brake controller on your 2013 Ford F-150.

The Hydrastar Hydraulic Brake Line Kit # HS496-152 includes a 15' main line to run from the front axle on your trailer to the Hydrastar actuator on the front of your Grand Design. It also includes all the lines to run to all 4 brake calipers on your tandem axles.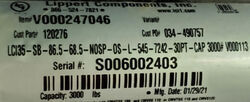 Axle Tag For 2021 Grand Design Imagine XLS 21BHE
(click to enlarge)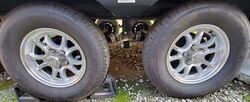 2021 Grand Design Imagine XLS 21BHE Suspension and Tires
(click to enlarge)
expert reply by:
Gregory M
Ask The Experts a Question >>
Featured Help Information
Instructions