Replacement Brakes, Hubs, and Spindles for 2000 Eagle Boat Trailer
Hello. I have a single axle 2000 Eagle boat trailer that needs new drum brakes, hubs and spindles. The VIN number is 4JEBB201XY1237550. Can you help me find the correct parts? Thanks.
asked by: Erik D
In order to find the correct replacement parts for your 2000 Eagle boat trailer you will need to identify your axle. We have no way of looking up specific parts for your trailer. A good place to start would be with the axle tag. This should have the capacity or a serial number which can be used by the axle manufacturer to find the capacity.

If the tag is missing or worn you can pull off the hubs and use the bearings to identify what you need. Check and see if the part numbers are stamped into the bearings. If not, you can use a digital caliper like the # PTW80157 to measure the inner diameter. Check out the diagram below.

If I had to guess it is probably a 3,500 lb axle. If that is the case you can use # AKEBRK-35-SA for electric brakes and # AKFBBRK-35 for hydraulic. For a hub and drum assembly that uses the standard # L68149 inner and # L44649 outer bearing we have the # AKHD-545-35-EZ-K. For a spindle you could use the # TRU77FR which you will need to take to an axle shop to have welded on.

If you have a different axle capacity please let me know and I can help you find the right parts for your trailer. I have attached an article listing common bearing combinations by capacity for your reference as well.


expert reply by:
Robin H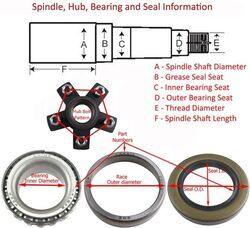 Spindle, Hub, Bearing and Seal Information.
(click to enlarge)
Ask The Experts a Question >>