Flat Towing Accessories

Custom-Fit Vehicle Base Plate
Select Vehicle Year
Base Plate Adapters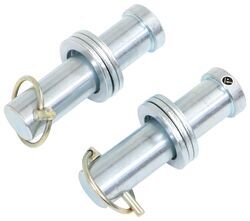 Base Plate Parts

Custom-Fit Vehicle Tow Bar Wiring
Select Vehicle Year
Custom-Fit Braking Systems
Select Vehicle Year
Whether you're towing your vehicle on a dolly or flat towing it behind an RV, we want to make sure you arrive at your destination safely. Check out our selection of tow dollies, or choose from our wide array of flat tow products to create a world-class setup. We have everything you need, from hitch-style and coupler-style tow bars to wiring to braking systems.
Not only do we have the tow bars, we also have the accessories you need to hook it up and function properly. From the wiring down to the brake systems. We also offer all the extras you need to complete your setup, including wiring extensions, brake lite relays, stop light switches, hitch adapters, tow bar covers, safety cables, and vehicle guards. A good brake system is an essential part of towing safely. We have custom tow bar brake systems, proportional brake systems, and pre-set braking systems. If you need a brake light relay or stop light switch kit, you've come to the right place.
With trusted brands like Roadmaster, Curt, Demco, Blue Ox, and Tow Ready, you can travel with peace of mind that you have a high quality product that will do its job right.
With over 75 years of assisting our neighbors and customers, over 1 million photos and videos taken to make sure you're getting exactly what you need, and over 35 thousand installations completed, we've got the product know-how and experience to help you make the right choices for the job at hand.